The PAMJ Blog
The Official blog of the Pan African Medical Journal
About the PAMJ Blog
25 Jan 2021 / Information

Welcome to the official Blog of the Pan African Medical Journal.
The PAMJ Blog was launched in early 2021, in response to the comments of our authors for a space to exchange on non-scientifically published issues. A response was long overdue.
The PAMJ Blog is run and managed by the staff of the Pan African Medical Journal and will be the sole medium where all issues related to activities of all PAMJ Journals and products will be shared and discussed.
Although the blog is run by PAMJ staff (editors, scientific editors, and editorial board members), the PAMJ invite experts, enthusiast, and professionals passionate and knowledgeable on issues such as Open Access Publishing in Africa, health service delivery, research, health policy, or any other topic we think could potentially interest our wide readership and authorship. We will also use the blog to engage our authors on various topics through blog post comments or polls.
The PAMJ Blog will also serve as a bulletin board where important announcements, notices, upcoming events will be posted and will publish posts in English and in French, the two languages of the PAMJ.
Blog editorial policy
The views and opinions not expressed by the PAMJ are solely those of their authors. The content of the blog is not peer-reviewed and does not represent medical or public health advice. The PAMJ however reserves the right to edit, delete or not publish comments or invited blog posts that are inappropriate (rude, insulting, personal, racists, sexists, etc.)
All articles published in this blog are Open Access and distributed under the terms of the Creative Commons Attribution 4.0 International (CC BY 4.0).
Commenting on blog posts
Some blog posts are open to comments by our readers. The comments are an opportunity for readers to contribute to the debate or express an opinion about a post. As professionals, we expect courtesy and professionalism. A comment posted is not available immediately, it should be validated by his/her author who will receive a validation notice by email. Only after the author of the comments approves his/her comment that it is posted alongside the blog post. To maintain the debate at a certain level, anonymous comments are not allowed. All readers commenting will be required to provide their name, affiliation and a valid email address to be sent the validation notice. The PAMJ reserves the right to edit, delete or not publish comments that are inappropriate (offensive, rude, insulting, personal, racists, sexists, etc.)
If you need more information about the PAMJ Blog or would like to post a blog or initiate a discussion, you are welcome to contact us at editor@panafrican-med-journal.com
The PAMJ and associated products are from the Pan African Medical Center for Public Health Research and Information, a Non-governmental Organization (NGO) registered with the Kenya NGO Board.
Kenya: 3rd Floor, Park Suite Building, Parkland Road, Nairobi. PoBox 38583-00100. Tel : +254 (0)20-520-4356
Cameroon: Immeuble TechnoPark Essos, Yaoundé. Tel : + 237 (0)24-309-5880 (0)24-309-5880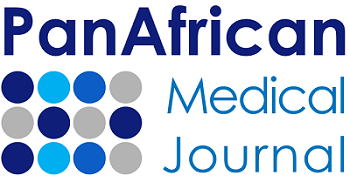 Pan African Medical Journal
This article is published by the editorial office of the PAMJ (KENYA)
---